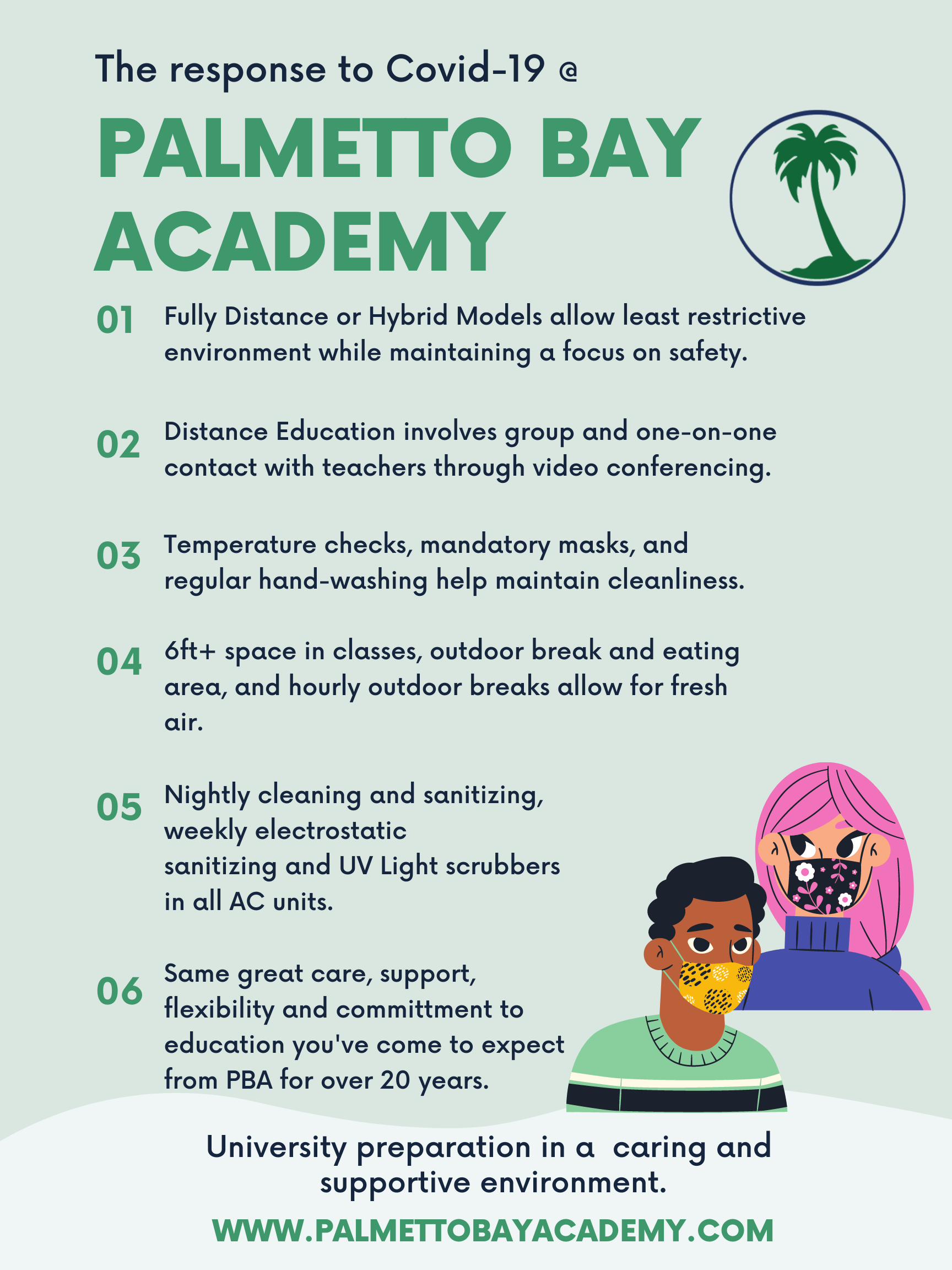 Frequently Asked Questions
What types of students attend PBA?
All types of students attend our school. Our students come from home schools, private schools, public schools and boarding schools. Most of our students are above average in intelligence and come from professional families. Some have specific learning differences and some are just looking for a different educational experience. What unifies our students is their wish to achieve their personal best.
What grades does PBA offer?
We have middle school and high school (grades 6-12) and all levels of instruction from remedial to Advanced Placement. Students may also take advantage of Dual Enrollment if they meet specific academic and time-management requirements. (Minimum GPA 3.5)
What are the school days and hours?
Monday – Friday, 8:30am to 2:45pm. In general, we follow the Miami-Dade school calendar with only slight differences. We also follow their decision for emergency school closings. Students may arrive on campus up to 30 minutes before school and remain on campus up to 20 minutes after school, except in specific situations of tutoring or after-school events. There is no supervision before 8:05am or after 3:05pm.
When can new students enroll?
Provided there is space, students can enroll at any time. We are a year-round school offering an optional six-week summer session. 2020/2021 Calendar coming soon.
How do we apply?
First, phone our office at 786-293-5353 to schedule an appointment with our Director or Associate Director. Both the child and the parent/s should attend the meeting. Next, fill out the application forms and return them to the school with the application fee of $75. Some of the records you will need are:
a transcript from the previous school
a State of Florida health exam and record of immunizations
In most cases you will also be asked to provide copies of evaluations, testing and IEPs where available. Final evaluations from other programs are also appreciated. Teacher recommendations are accepted but not required.
After the initial meeting the student will be scheduled for diagnostic testing in order to ascertain skill levels in English and Math. This assists the school in placing the student in courses with the appropriate level of academic rigor.
Do PBA students earn an accredited diploma and qualify for college?
Yes, our graduates all receive an accredited diploma. We are AdvancEd/SACS/Cognia Accredited. Students applying to a four-year college must complete the coursework for the 24-credit College Preparatory Diploma. Many of our students qualify for Bright Futures Scholarships. For more information on Bright Futures, click here.
Those interested in a two-year college or vocational school will need a General High School Diploma. In nearly all cases, students who are not seeking our diploma will be able to transfer any credits earned at Palmetto Bay Academy to a traditional secondary school.
Can students make up lost credits or graduate sooner?
Yes, students can recapture lost credits or earn extra credits depending on how much time and effort they put into their classes. Because students can work at their own pace, they can complete extra classes if they are motivated to work harder. In addition, if students use their class time wisely, they should have much less homework than in a traditional school, freeing them to pursue other interests such as: sports, fine arts, community service or a part-time job.
What are the tuition and fees?
2020-2021 Annual Tuition: $25,750
Book and Course Fees: $750
New Student Registration Fee: $500
Graduation Fee (Seniors Only) $450
We have an interest-free 10 month payment plan.
Are there any scholarships available?
Yes, we are approved to accept the following scholarships offered through the State of Florida:
the McKay Scholarship to approved students with learning disabilities

the Gardiner Scholarship to approved students with disabilities

the Hope Scholarship

the Florida Tax Credit Scholarship (FTC and FES)
For more information on these programs, please research Florida School Choice options.